October News
Rowing Record for Filip Bernaciak
Congratulations to 2nd Year student Filip Bernaciak who recently beat the national U-14 5km rowing record in an impressive time of 19 mins 23 seconds. 13 year old Filip shaved 15 seconds off the previous record and now has his sights set on the other U-14 national records. Best of luck Filip, you have the Tyndall College community behind you all the way!
Global Goals Week
Tyndall College TY Global Citizenship students showed their support for the Global Goals as part of Global Goals Week. Global Goals Week is a shared commitment between a coalition of over 130 partners across all industries, which mobilises annually in September to bring together communities, demand urgency, and supercharge solutions for the Sustainable Development Goals (SDGs). 
Papal Cross Award for Sophie Broderick
Huge congratulations to 6th Year student Sophie Broderick who was awarded the Papal Cross last week in a special ceremony in the Cathedral of the Assumption, Carlow. The Papal Cross Award is a faith achievement award for young people between the age of 16 and 18. It is non-competitive, inclusive, flexible and voluntary. The Award enables participants to take an active part in the life of their Church – in the life of their community and society. We are very proud of you Sophie, well done!
Junior Cycle Geography
1st Year Geography classes have enjoyed wonderful active learning classes this month. 1 Suir got to experiment with weather instruments outside with Mr. Lowry and Ms. Walsh and 1 Slaney got to make their very own volcanic eruptions with Ms. Mulhall!
STEAM Club
The Tyndall College STEAM Club enjoyed a coding workshop. The STEAM Club explore Science, Technology, Engineering, the Arts and Maths in everyday life, guiding student enquiry, dialogue, and critical thinking.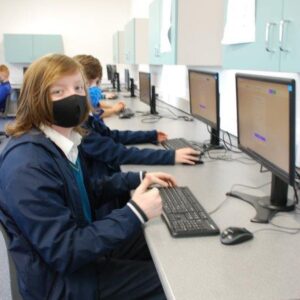 John Paul Payne Makeup Workshop
LCA welcomed the wonderful makeup artist John Paul Payne in for a makeup workshop as part of their Hair and Beauty module. Thank you so much John Paul, it was fantastic  Looking forward to having you back in the future!
Senior County Hurling Champions
Tyndall College Carlow teachers Mr Coady and Mr McDonald are members of the Mount Leinster Rangers team who won the Senior Hurling Carlow County Final last month. A massive congratulations and we will be behind them as they start their Leinster Campaign in November!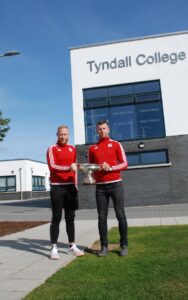 TY Personal Safety Workshop
Transition Year enjoyed a fantastic personal safety  workshop with Alex Walsh earlier this term. It was so informative and addressed important real-life issues. Thank you, Alex!