November & December News
Dance Win for Aaliyah Hutchinson
Well done to 1st Year student Aaliyah Hutchinson who won overall at the Freestyle Dance Championships recently in Belfast.  Aaliyah who is in 1 Nore, performed in her first competition back after 18 months of online classes which is an incredible achievement. Well done Aaliyah!
MFL & Intercultural Week 2021
In November Tyndall College marked MFL Languages and Intercultural Week. The whole community celebrated and embraced all of the different cultures and nationalities in our school – over 30! The highlight of the week was our very first Global Cafe where students had the opportunity to taste a variety of very tasty foods. Huge thanks to every student and their parents and guardians for their great efforts and support. Well Done to all!
Sixth Year Geography Field Trip
Our 6th Year Geography Class recently went to Kippure Estate, Blessington, Co Wicklow to carry out their field study which is worth 20% of their overall Leaving Certificate Geography Exam result. The students carried out various activities which included measuring the speed, depth and width of the river, as well as angles of the river and its banks along with examining rocks present. A great day was had by all and the students demonstrated great team work and enthusiasm. Many thanks to Mr Doyle and Ms Flynn for accompanying the students on the day.  
Sound Training for Senior Students
Steve Corry from Premier Sound and Lighting training a group of TY and Fifth Year students in how to use the school PA system in November. Thanks so much for your time Steve. It was so informative.
Ódhran Murphy debuts for Carlow Kennedy Cup Squad
Well done to Ódhran Murphy Second Year who was part of the Carlow Kennedy Cup Squad who made their debut against Wexford Academy resulting in a 4-2 victory for Carlow Academy.
TY Kestrel Complete IT Carlow Enabling Transitions Programme
Transition Year Kestrel group received their Certificates from IT Carlow for completing the Enabling Transitions Programme with Angela Costello. Hugh Ryan presented the students with their Certificates and goodie bags. A fantastic achievement.
Stand Up Week 2021
A busy programme of events marked Stand Up Week 2021 in Tyndall College as we celebrated our inclusive school community that values each and every individual. Stand Up Week is a week where schools take a stand against homophobic, biphobic and transphobic bullying.  During Stand Up week, we celebrate together in an effort to reinforce the message that we are proud to be allies. Our school community wants everyone to feel comfortable to be who they are.
During Stand Up Week 2021 we welcomed Carlow Regional Youth Services and the Carlow Pride Committee.  Another special moment was when the Pride flag was raised. See our Instagram or Facebook profiles for all the photos from this memorable week. 
SOCCER
Senior Soccer
On Thursday 16th December Tyndall College were crowned South Leinster Champions as they saw off Scoil Aireagail Ballyhale in penalties in a titanic battle.  Penalties were scored by Jodie Doyle, Dylan Murphy, Jack Doyle and Giacomo Zanardi. While Jamie Farnon brilliantly saved one to see Tyndall come out on top!
A full season report is in the News Section.
Under 15s Soccer
Tyndall College U15s v Colaiste Eoin Hacketstown: Our U15s just came up short in their match against Colaiste Eoin. An excellent game by all accounts and some great performances put by the lads in blue and white.
Final Score: Colaiste Eoin Hacketstown 4 – Tyndall College 3.
Tyndall College U15s v Gaelcholaiste Cheatharlach
This was a brilliant team performance from the lads with Christian Germaine and Shane Grant displaying excellent leadership qualities in midfield. Michael Dooley scored a hattrick and Corey Ryan added the 4th. Confidence is high and they are looking forward to their next game after Christmas. 
Final Score: Tyndall College 4- Gaelcholaiste Cheatharlach 2.
John Lonergan Visit
Tyndall College Transition Year groups had the pleasure of having former governor of Mount Joy prison in to give an excellent talk. John had an excellent insight into how making bad decisions can affect young people's lives and his experience in the prison service.
Castlecomer Discovery Park
TY students enjoyed a fantastic day of activities at the Castlecomer Discovery Park. Challenges were met, fears were overcome and the whole group worked brilliantly as a team as they enjoyed doing the high rope walk, archery and the longest zip line in Ireland!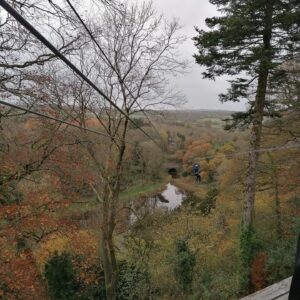 BASKETBALL
Under 16 Boys
Tyndall College v CBS Clonmel: After going to extra time the U16s were narrowly defeated by a basket in their match against CBS Clonmel. Final Score: 40-37.
Under 19 Boys
Tyndall College v CBS Clonmel: Tyndall pulled away from CBS Clonmel in the dying minutes of the game to win with a 7 point lead. Final score Tyndall 42 CBS Clonmel 37.
1st & 2nd Year Boys Basketball Tournament
1st and 2nd Year Boys enjoyed a basketball tournament this month. Lots of students (and talent!) took part across the 2 years.  Stand out performances from 2nd years Scott, Connor and Fionn and 1st years Casper and Jake. The MVP was awarded to pointguard Rad in 2nd year  Congratulations to the yellow team who finished on top  The 1st and 2nd year league kicks off after Christmas with a couple of challenge games organised in the mean time  Training every Wednesday with Mr McDonald, Mr Dowling, Ms Carter and Nate our amazing American Basketball Coach.
Under 16 Girls
Tyndall College v Colaiste Phort Lairge                  Final Score: 45 -13
Under 19 Girls
Tyndall College v Cholaiste Phort Lairge                Final Score 57 – 44
Congratulations to our U16 and U19 girls' basketball teams who both beat Colaiste Phort Lairge and have topped their groups. They will now play semi-finals in January. Well done to all!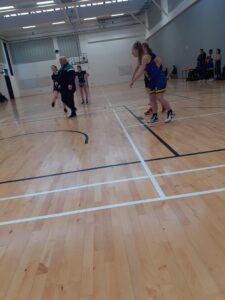 Ms. Moore's Ladies Football Victory
Tyndall College Carlow teacher Ms. Moore, a member of the St Anne's Ladies Football team who won the Intermediate Ladies County Final on the 31st October St Anne's progressed into the Leinster Club Championship. Well done and the very best of luck with Leinster campaign! Tyndall College is behind you all the way.
Ross Fraser Swimming Medal
Well done to Ross Fraser in 2nd year Quartz who won a silver medal in the U14 butterfly at the community games that were held recently in the University of Limerick. Ross is pictured alongside his brother Ronan (right) and Olympian Brendan Hyland. Well done Ross and very best of luck in the future
Filip Bernaciak Rowing Medals
Second Year student Filip Bernaciak at the National Rowing Championship in Limerick on Saturday Nov 20th where he won 1st place for the 4 minute race and 2nd place for the 500m race for u14. He is looking forward to competing against the same people again in January. A massive congratulations Filip.
TY Visit to Kilkenny
Our TYss enjoyed a lovely day in Kilkenny, which started off with a tour of The Butler Gallery which was followed by a tour of inside Kilkenny Castle. This then led to an orienteering activity organised by Ms. Carter around the Castle Park. Students really enjoyed getting out and seeing what Kilkenny has to offer. A special thanks to Mr. Doyle, Ms. Carter, Mr. Dowling and Mr. Dunne who assisted in making this day a huge success.
Santa Run 2021
On Friday 17th December we held Tyndall College's first Santa Run, where students and staff ran a 2km loop around Carlow IT sports grounds. Students dressed up in their festive gear and helped to bring the Christmas cheer to our school community. We also raised money for two charities "Children In Bali Project" and "Carlow Regional Youth Services".  Well done to the Santa Squad for organising a great event.
All photos of the event are in a separate post in the News Section.
Junior Gaelic Football
Our Junior Gaelic Football Team travelled to Portlaoise to play Portlaoise College in a Pre Christmas Challenge Game. Lots of Goals scored by both sides, with the home team coming out the victors.
TY Christmas Market           
Our TYs put on their entrepreneurial caps at the Christmas Market where we had a great display of creativity and innovation! A lot of Christmas shopping was done over the two days! So much hard work by all students and TY Enterprise teachers. We look forward to another successful Christmas Market next year.
Spanish Class Workshop on Latin America
Ms Rappoccio's 5th year Spanish class was involved in a two-day workshop on Latin America. The workshop was delivered by Thomas McDonagh from the Latin America Solidarity Centre (LASC) in Ireland. Students actively took part in a discussion table and walking debate on human rights in South America, focusing on the Colombian area and the use of coal from Ireland. Students had the opportunity to both speak in Spanish and English and they become aware of how the Colombian community have been negatively affected by the exportation of coal in our country. An excellent experience!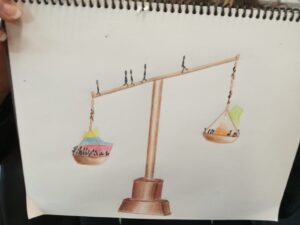 Gaelbhratach Christmas Poster Competition
Comhghairdeas mór le buaiteoirí an chomórtais ealaíne!! Maith sibh gach duine a ghlac páirt sa chomórtas. Big Congratulations to the winners of our 'Nollaig Shona' art competition!! Well done to everyone who took part. Nollaig Shona daoibh uilig!!!
JCSP Christmas Quiz 
Great fun was had at our annual Christmas Quiz with the competitive spirit coming out in lots of our students! Well done to all our winners!