January & February News
Joey Nolan 2nd Year
Joey Nolan 2nd Year with the superb 3000 piece Bugatti Chiron he finished recently. Very impressive Joey, well done!
Lee Prendergast 3rd Year Wins Gold
Third Year student Lee Prendergast pictured with the gold medal he won in the Under 16 Pole Vault at the Leinster Juvenile Track & Field Championships this month. He also has the gold and silver medals he won in the 2021 National Juvenile Track & Field Championships. Lee placed 1st  in Leinster and 2nd in Ireland in the Under 16 Pole Vault. Massive congratulations Lee on a phenomenal achievement. Wishing you the very best of luck in the All Irelands!
Under 16 Girls Basketball Win Leinster Final
Massive congratulations to our Under 16 Girls Basketball team who had a convincing win over Avondale Community College Rathdrum in the Leinster final! Final score Tyndall 30 – Avondale CC 20.  A brilliant result.  Well done to all members of the squad and their coaches Ms O'Neill, Mr Dockery and Ronagh.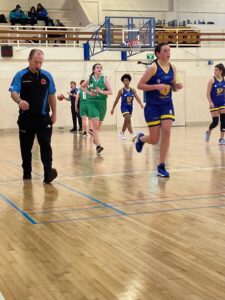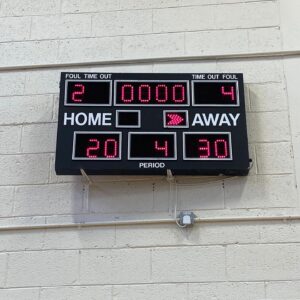 Boys Basketball
CBS Clonmel travelled to Tyndall College on Thursday the 20th January to kick start their league. Unfortunately it was not our day and we were beaten by the well drilled Tipperary side.  Hard luck to both teams who represented their school with pride. The teams travel to CTI Clonmel on Monday for their next game. Best of luck!  1st Year MVP: Dakar Thiangthaisong   2nd Year MVP: Daniel Dunne.
Science Department
5th Year Biology Heart Dissections
Numeracy in the Science Lab
5th  Year Biology students used Snakes and Ladders to revise the circulatory and breathing systems. A nice break from written work!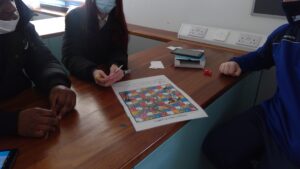 1 Fusheoge Science
Brilliant work from 1 Fusheoge who got creative in their Science class. Students had to design a travel brochure for travel into space. They included facts and details about what someone might come across while travelling through space, and also came up with some catchy travel agent names and travel deals! Well done all. 
JCSP Celebrity Chef
Tyndall College Home Economics teachers and 1st year students were delighted to welcome Raths Head chef Billy Costello on Thursday 3rd February.  Billy did a cookery demonstration of 2 starters, 2 main courses and a very well received dessert of chocolate trifle to 80 students over the course of the morning.  The event was made possible thanks to JCSP initiative funding.  
It was a fantastic learning experience for our students who got to see a real professional chef in action. The students and staff, who were lucky enough to make it, got to taste all the dishes and Billy's fabulous creations got a resounding thumbs up from all.   
Ms Hennessy and Ms Ryan would like to sincerely thank Billy for his patience, energy and for giving of his time so generously. It was such a valuable experience for all.  We look forward to welcoming Billy to our Home Economics department in the not too distant future.   
Transition Year
Animal Care
Our TY Animal Care class working hard! After learning about different types of habitats and animals kept in zoos and areas of conservation, students are now designing and building their own habitat model for their chosen animal. Looking forward to the finished results!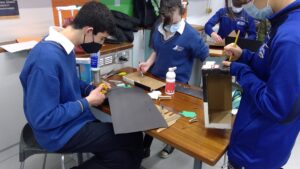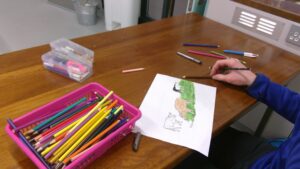 The B!g Idea
TYs enjoyed their swag bags from the B!g Idea.  The B!g Idea is a programme that aims to equip the next generation with the creative mindset to tackle the biggest problems society faces. They collaborate with schools and Transition Year (TY) students to create, experiment, invent, take risks, make mistakes, have fun, and change the world. 
Dogs Trust
Heather from Dogs Trust spoke to TY students about animal ethics and animal care. Students were so inspired by her talks, they have decided to do a fundraiser for the Dogs Trust. Well done everyone, wishing you the best of luck with your campaign.
Brilliant Mondays
Brilliant Mondays workshop with Stephen Kieran. He is the author of the book 'Brilliant Mondays'. This insightful and inspiring book is capable of convincing even the most sceptical of individuals that ordinary people are capable of achieving extraordinary things, and that having Brilliant Mondays should be the norm for us all. Stephen has interviewed over 60 ordinary people who have achieved extraordinary things. He has asked each of them the same seven questions in an effort to figure out what they share in common. It shares the story of a pivotal moment or experience that helped shape who they are and what they have achieved – followed by their answers to his seven questions. Having successfully identified the common denominators, Stephen has structured this book in an easy to follow format that provides a roadmap to anyone who wants to achieve extraordinary things, fulfil their potential and enjoy Brilliant Mondays. Students really enjoyed the workshop and he even gifted a few signed copies of his books. Thanks Stephen for a great workshop.
Tin Pot Productions
Tin Pot Productions, a TY Transmission Radio Workshop, brought their amazing mobile recording studio to Tyndall College in a series of 3 full day workshops. The students benefited from professional industry training, honed their presentation skills and enjoyed recording their own radio segments in their high spec mobile recording studio.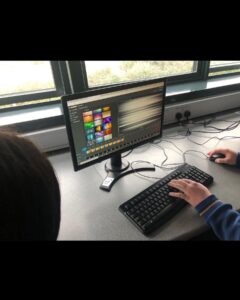 Dublin Barista Coffee School
Dublin Barista Coffee school were in the school this month working with TY. Students were all given the basics in Coffee making using the barista machines. They were all then shown how to grind the coffee and make the perfect mocha or hot chocolate! A really great workshop and enjoyed by all.
Forensics for Fun
TY students had a workshop called Forensics for Fun on Monday 14th February. The workshop examined the forensics behind the JFK Assassination. Students really found Pat so great and loved the workshop and all the theories behind it all.  
Global Citizenship Week
As part of Global Citizenship Week students were busy learning about BioDiversity and Fast Fashion. Photos show how much water we are wearing in our clothes! Students created very colourful and striking displays. Students also undertake a weekly litter pick along the Kilkenny Road. Well done to all.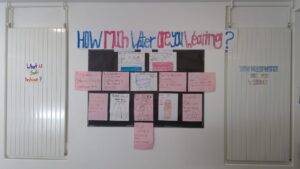 Senior Options Online Presentation
On Thursday 3rd February Ms. G Lawlor and Mr. Lowry ran a very successful Senior Options teams meeting with students, parents and guardians. Participants had the opportunity to watch a presentation that detailed all senior cycle options for Tyndall College students including Transition Year, Leaving Cert Applied and LCVP (traditional Leaving Cert) and had a very informative Q & A session afterwards.  Thank you to the Guidance Department for a fantastic event.
PE Department
LCA Gymnastics
Our 5th Year LCA class practicing gymnastics balances during their PE lesson.
Lawrence 'Puff' Summers – 1st & 2nd Year PE
We are incredibly lucky to have Lawrence 'Puff' Summers in with our 1st and 2nd Year PE classes with thanks to Carlow Regional Youth Services. Puff was a former draft NBA player and is one of Ireland's most decorated coaches and players. He has been all over Europe, Australia and America playing ball but has been in Ireland coaching and playing for 15 years. His main focus during PE is having fun playing basketball, bringing energy into academic lessons and not giving up. A huge thank you to Deborah from Carlow Regional Youth Services for making this happen.
Hoop Academy Gifts
Some of our 6th Year Boy Basketballers were lucky enough to receive a gift or these tees from @thehoopacademybasketballcamp. Thank you! We would like to thank former Tyndall Grizzly Coach Alyssa Velles from IT Carlow Basketball for making this happen.
Music Department
Our 1st Year students enjoyed making their own percussion instruments during their Music taster before Christmas. Ms. Phelan and Mr. Doyle were hugely impressed with the creativity and quality of the instruments made and students had great fun making lots of noise with their inventions!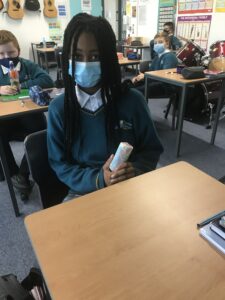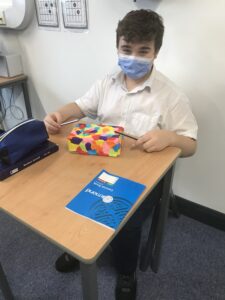 History Department
Holocaust Memorial Day
5th Year History class participated in a webinar with Holocaust survivor Tomi Reichental as part of Holocaust Memorial Day on January 27th.  Thank you to Carlow College for facilitating Tomi's story of man's inhumanity to man. We are very grateful to him for sharing his story.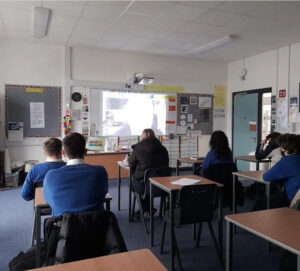 3rd Year History
3rd Year History class enjoyed using Booklet this month. A fantastic, fun way of revising topics and improving numeracy skills!
Local Famine Workhouse and Graveyard Visit
2 Opal on their recent visit to the Famine Workhouse and Graveyard.

Junk Kouture
Oliwia Gliwinska, TY, recently completed her Junk Kouture costume. This competition requires you to create a costume completely from recycled materials. The dress and wings are made from plastic wrappers, compost bags, old CDs and wire. The umbrella is made out of cardboard, paper mache and old wool. The crown is made from wire, golden ribbon, CDs and plastic.  Tyndall College is so proud of her representing the school. Well done Oliwia, wishing you the very best of luck in the competition!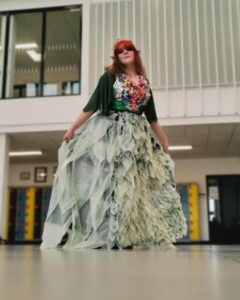 Engineering & Construction – 3D Printer
Here's a model of the Burj Khalifa, the tallest building in the world! The model was designed and then printed off using Tyndall's new 3D printer which is located in the Engineering and Construction Department.
Art By 1 Barrow
Some beautiful artwork by students of 1 Barrow.
Hurling and Camogie
Here at Tyndall College we are very committed to extra curricular activities and students have many options to choose from. One sport that we are really trying to promote this year is Hurling and Camogie. In recent weeks students have been given the opportunity to participate in skills based training sessions and there has been a strong turnout. After school training will start after the mid-term break. We are very excited to see this sport grow in Tyndall!
Assisted and Supervised Study
Assisted and Supervised Study resumed after the Christmas Break. Assisted Study is for 1st – 3rd Year Students and runs every Wednesday and Thursday in Room 118 from 3.50 – 5pm. Cost from February to Easter is €30. Supervised Study is for 5th & 6th Years and takes place from Tuesday to Thursday in Room 112 from 3.50 – 5.30pm. Cost is €5 per week. If you are interested all you need to do is turn up.
Chess Club
Great interest and participation in Mr. Scott's Chess Club. The Club runs every Tuesday and Thursday at lunchtime in Room 023 for students from any year that would like to play.
Languages Connect – Tyndall College & Ballinabranna NS
Valentine's Day In the Resource Centre
Busy baking Valentine's cupcakes in the Resource Centre!
Grátitude
Valentine's Day is Gratitude Day in Tyndall College. Students were invited to nominate someone in their lives for recognition. This could be a family member, friend, teacher or anyone they felt deserved to be recognised for what they do. Students sent their nominations and the reason for their choice to Ms. Hutton and winning entries received flowers to give to their nominated person. Thank you to everyone who took part. It is wonderful to see how much our students appreciate the people around them.
Junior Girls GAA
Our Junior Ladies GAA team played Tullow Community School on Friday 11th February in their first match of the year. It was a cold and frosty morning for GAA and while the result did not go our way, the  girls gained great match experience. Well done to all involved. More games to come! 
Bulbs for Bees for Gaisce
This certificate recognises the achievement of our TY Gaisce students who planted bulbs around the school last October as part of Ireland's largest ever pollination project to celebrate the 35th  Anniversary of Gaisce. We look forward to seeing them flower in the coming weeks. This initiative links in with our Green Schools Committee, Development Education Committee and overall biodiversity awareness within our school.